Our last SDA meeting on May 19 was held at Woolgatherers in Fond du Lac. Shop owners Sara and Hans von Tresckow recently expanded their business to this larger store where they have an extensive variety of spinning, weaving, and knitting fibers and supplies.
Sara learned to weave while living in Germany for 20 years. She is largely self-taught through books, some lessons, observation of professional weavers, extensive museum visits/connections. She has always been interested in textile history and archaeology. Sara weaves on countermarche looms, a 16-shaft computer assisted dobby, a 50-pattern shaft drawloom with 8 ground shafts, and Jacquard looms.
Her beautiful woven work centers on household linens and rugs, decorative items from the drawloom, and clothing fabrics/scarves. Sara studied drawloom weaving with Joanne Hall and took three courses in Jacquard design at Eastern Michigan University, Oaxacan rug weaving with Wence Martinez, and Jacquard weaving at Oriole Mill with Bethanne Knudsen.
In addition to selling finished pieces and supplies, Sara also provides private instruction for beginners as well as advanced weavers. Hans, the engineer and woodworker in the family, evaluates, repairs, restores, and maintains looms and spinning wheels.
Hans and Sara are available for seminars, lectures, demos or event booths. Their website contains details about looms, wheels, lessons as well as their show schedule. If you have questions or needs regarding spinning or weaving, these are the folks to call!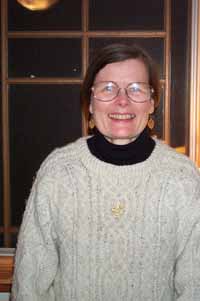 Sara von Tresckow
Hans von Tresckow
Look for the Woolgatherers at the Wisconsin Sheep and Wool Festival in Jefferson, WI September 7-9, 2012 and at the Townline Art Fair at The Fine Line Gallery in Ephraim, WI.
Many thanks to Sara and Hans for hosting and supporting the Wisconsin SDA!! Sara, who was able to join the meeting while Hans watched the store, brought insights and humor along with her 30 years of fiber arts experience. We enjoyed getting to know you and your shop.
For more information visit
Woolgatherers
or
email Sara.
Fine Line Designs Gallery
Wisconsin Sheep and Wool Festival
Coming soon--- new rep Lisa Sattell's blog about the meeting.